Quick Links
Taiwan Grand Character Formation
In Taiwan, a grand character formation event was held on May 1st in which more than 5,200 Falun Dafa practitioners participated. The characters they formed said "Wish Master a Happy Birthday" and "Happy 29th Anniversary of Falun Dafa's Public Introduction", with the character in the middle and the peaches on its side symbolizing longevity. They also practiced the Falun Dafa exercises after the event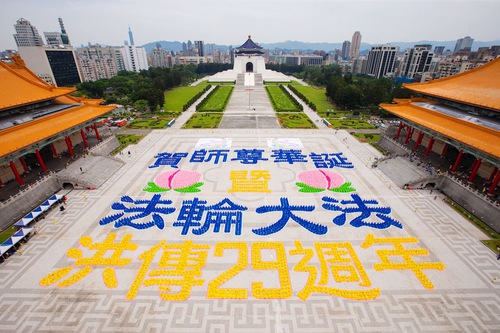 In learning Falun Dafa's principles of Truthfulness, Compassion, and Forbearance, practitioners cultivate their character to become better people. On this day, practitioners wished Master Li Hongzhi, the founder of the practice, a happy 70th birthday with gratitude for the positive changes the practice has brought into their lives.
Several passerby and onlookers of the event made numerous heartfelt comments of what they witnessed. The husband of one history teacher said, "This is really stunning and so peaceful! You can really feel the very strong unity here." Another onlooker said upon seeing the group exercises: "The situation in the world now is so chaotic and disturbing. It really is great to able to quiet oneself down and focus one's mind".
Practitioners and other attendees also shared their praise of the practice. They all commented on how their lives drastically changed for better when they looked within according to Falun Dafa principles, as well as on the positive changes they noticed in family members who began the practice.
Even though it had been raining in Taiwan for days up until the event, on the day of the event the sky was clear and weather calm. As soon as the characters were fully assembled, a colorful circle of light suddenly formed around the sun, creating a multi-colored solar-halo in the sky.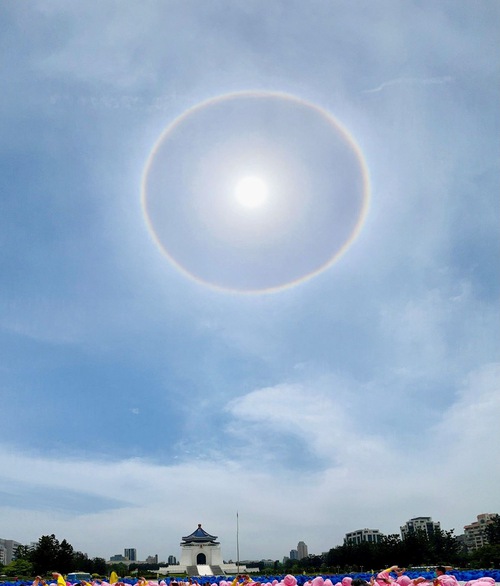 Read more here
Celebration in New York
In Flushing, New York, Falun Dafa practitioners of various ethnicities and ages gathered on May 1st to celebrate World Falun Dafa Day with colorful flags, banners, and signs. Together they wished Master Li Hongzhi, the founder of the practice, a happy birthday and expressed their gratitude for the health benefits the practice has brought them in their lives.
Among them, Li Juan, 31, has a Master's degree and began to practice with her mother and grandmother at age 9. She recounted how while she was having difficulty with labor while giving birth to her son, she kept reciting "Falun Dafa is good" and the baby was born without any problems. She shared how "The principles of Dafa have made me optimistic and positive in my life. I work hard at my job". With her son also beginning to learn the principles of Falun Dafa, Juan and her family of 4 generations are grateful for the practice.
Tyrone manages an internet company in Manhattan, and started practicing Falun Gong in 2000. He noted that after he began to practice, he could better discern good and bad. He easily quit smoking and drinking, never became ill again, and "became kinder and more peaceful inside". Tyrone's family also praises the wonders of Falun Dafa, and her wife has taken up the practice as well.
Wan Yulian discussed how she used to have a bad temper before practicing Falun Dafa, but once she learned it's principles on reflecting over one's shortcomings, her relationships with others improved. She also shared Falun Dafa's teachings on how to be a good person with her child. He readily accepted it and now doesn't develop bad habits or try to cover up his mistakes.
Read more here
Parade in California
Practitioners gathered together to practice the exercises at the popular Fisherman's Wharf in San Francisco on May 8th, 2021. Around noon the group performed in a parade with a music band, a float with a queen sitting on a lotus flower, and several groups with banners requesting the end of Falun Dafa's persecution in China.  All practitioners wished the founder of Falun Dafa, Mr Li Hongzhi, a happy 70th birthday.  
Locals and tourists gathered to give applause and supported the event by showing solidarity with the practitioners' request to end the persecution in China. The people that were present at the public event were amazed by the beauty and colorful unfolding as well as the peaceful and harmonious energy from the graceful movements as practitioners performed the Falun Dafa exercises. Some even joined the practice!
Read more here
You can also attend a free online World Falun Dafa Day celebration on May 13th here.